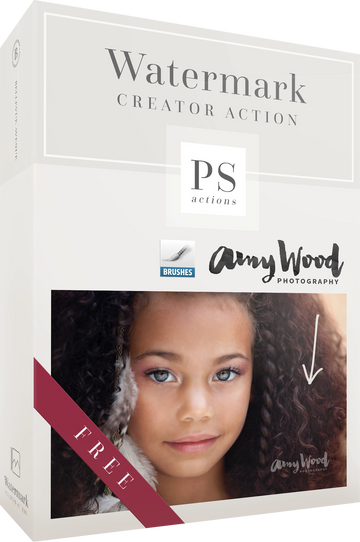 Free Watermark Creator!
Download our FREE Watermark Creator Action today!
---
TELL US WHERE TO SEND YOUR FREEBIE!
By entering your email, you are subscribing to Bellevue Avenue's personal and promotional marketing email list. If you are a member of the European Union, in the first email, you will be given the option to opt-in to our regular marketing emails after the launch sequence is over. If you choose not to, you will not receive any more marketing or promotional emails after this sequence is complete. 
Free Watermark Creator
Wouldn't you love to find an easier and quicker way to create and place your watermark on your images? This FREE Photoshop action, Watermark Creator, makes it as easy as clicking where you want to place the watermark and *viola* it's there!
Why do I need a watermark?
Unfortunately, the internet is not the welcoming community we wish it would be. You should never post your images without a watermark, otherwise you risk other online users stealing and taking credit for your work. Even if you're posting your photos to your Facebook page or Instagram account, or any social network, a watermark will protect your image and also advertise for you as it gets shared around the web!
Use our FREE Watermark Creator to prevent other people from stealing your photographs. Throw your old, tedious process out the window and cut down on your editing time by allowing our free Photoshop action, Watermark Creator, to quickly protect all of your photos in a fraction of the time!
When using this free Photoshop action tool, you can control the size, opacity, and more, while adding your watermark in seconds! We developed this free Photoshop action to streamline your workflow or do the work for you if it's not something you know how to do.
Add that professional touch in a fraction of the time with our Watermark Creator, a FREE Photoshop action courtesy of Bellevue Avenue. Whether you're an experienced photographer and photo editor or you're a hobbyist publishing pictures on the web for fun, you need to mark your images to prevent people from stealing your work and taking credit for it.
Protect yourself and your work while also advertising your photography with a professional edge by using our photoshop action.
Our goal at Bellevue Avenue is to streamline experienced photographer's workflow while also helping novice photographers and hobbyists produce high quality images, even if they don't have the editing skills to do so. We offer this Watermark Creator as a free Photoshop action because we know it can be useful to anyone. And you don't want online users to steal your beautiful images just because you don't have the Photoshop skills to add a watermark.
Our FREE Watermark Creator Action quickly creates an easy-to-use watermark BRUSH that you can use over and over to stamp your watermark on your images before posting them to the web!